New trade waste pricing from July 2023
From 1 July 2023, we're moving from a flat fee of $350 to a tiered pricing structure for all Category 1 Trade Waste Permits. The new pricing structure introduces Treatment Tiers that are allocated to businesses based on their type of business, the liquid waste they generate and the impact on the wastewater network.
Find out more
What is trade waste?
Wastewater generated by industry, small business and commercial enterprise is referred to as trade waste.
Trade waste can be very different to regular household wastewater because it may contain fats, oils and greases and/or toxic or harmful substances such as acids, petroleum products, heavy metals, solids, organic solvents or chlorinated organics.
What impact can trade waste have on the environment?
Uncontrolled or illegal discharge of trade waste may cause serious problems in the wastewater system such as overflows and overloading, blockages, corrosion, hazardous work environments and failure of the sewage purification process.
Trade waste can impose an additional load on the wastewater system, and therefore requires extra, and more costly, treatment to keep our communities, the environment and our network safe.
There are additional costs to manage and treat trade waste safely and effectively. These costs go towards the extra chemicals, cleaning and electricity required to treat trade waste so that it does not pollute our environment, harm our people or cause blockages, overflows or damage to our network.
Sensitive, careful and effective wastewater treatment, which removes trade waste contaminants, is a critical safeguard for public health and the environment.
Trade Waste Permit
If you own a business which generates trade waste, you are required under the Water Supply (Safety and Reliability) Act 2008 to apply to Unitywater for a permit. Trade Waste Permit Fees go towards the complex, costly and essential process of treating wastewater generated by business (trade waste).
Need a quick guide to trade waste?
Watch our video:
Follow these steps for your business:
2. Apply for a Trade Waste Permit
A Trade Waste Permit is required for:
Businesses that wash or clean any utensil or equipment and discharge the wastewater into the sewerage network. These businesses are required to install grease traps as part of their Trade Waste Agreement with Unitywater.

Businesses that produce non-domestic liquid waste containing chemicals or residue from a commercial or industrial process. These businesses are required to install pre-treatment devices as part of their Trade Waste Agreement with Unitywater.
You might also be interested in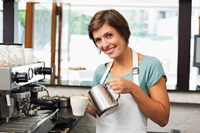 Did you know?
We have more than 3,500 trade waste customers including food outlets and shopping centres, education facilities, hospitals and medical centres and industrial and chemical manufacturers.