The striking piece, showing a whale, a turtle and fish swimming underwater, captured more than half of the public vote (51%). Gretchen Keelty's Shadow Shapes received 21% of the vote, Shane Gehlert's The Sentinels 15%, Travis Vinson's Sea of Wonder 7% and Vick Pattison's Yesterday, Today and Tomorrow 6%.
Joel Fergie, also known in art circles as The Zookeeper, is a 26-year-old professional street artist and "creative thinker".
"I am so excited to win," he said.
"This is the ultimate canvas and it all feels like a dream, really.
"It's inspiring to see the Sunshine Coast embrace this worldwide trend towards innovative public art projects that capture and reflect the essence of the community."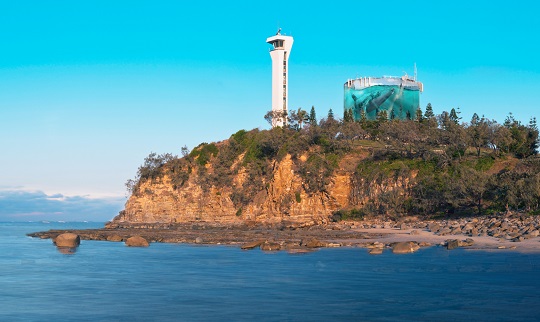 Mr Fergie has experience painting similar murals, including one measuring 12-metres square and another 100-metres long.
But this project, to paint an artwork on a reservoir measuring 17 metres in height and 20.5 metres in diameter, represents the tallest mural Mr Fergie has ever painted.
Mr Fergie will form part of the installation crew from Jugglers Art Space who will paint the image on the concrete through the use of grids, projectors and freehand painting.
"I really want it to be a beautiful piece," Mr Fergie said.
"I was guided by local residents' feedback and used their ideas for inspiration. The resulting artwork includes references to iconic marine life, the Richmond Birdwing Butterfly and yachts off Mooloolaba.
"I hope there's little hidden surprises in there for people. I want it to blow people away and make them stop and appreciate their beautiful surroundings."
Unitywater Community Relations Specialist Kate Cash praised the community for their input on the project.
"The shortlisted artworks were all inspired by the community-driven brief but Subsurface has clearly been chosen as the favourite," she said.
"This project takes on a special significance because it can be viewed from multiple vantage points on the Coast; from land, sea and air."
Sunshine Coast Council CEO Michael Whittaker thanked all of the artists for the inspiration and work they put into their designs and the public who voted during the selection process.
"What is already a well-known, but quite bland, landmark will be transformed into a very special piece of art," Mr Whittaker said.
"The winning entry, with its focus on the ocean and our aquatic wildlife, clearly resonates with the public and I'm sure will be photographed over and over by our visitors and Coast residents."
Weather permitting, the art installation will be complete by the end of March.
More information on the project here.