Reading your water meter is the important first step that we take to calculate and issue your quarterly bill.
The day our meter readers take a reading of your meter marks the end of one billing period and the start of the next.
The 4 steps below show how we issue your bill every quarter:
Step 1: Reading your water meter
Unitywater engages contractors to read your water meter. They carry identification cards and wear high-visibility uniforms.
We read your meter every three months (quarterly), then send your bill a few days later. To ensure that we bill you correctly, please make it easy for our meter readers to access your meter by clearing any overgrown grass, shrubs or other obstructions.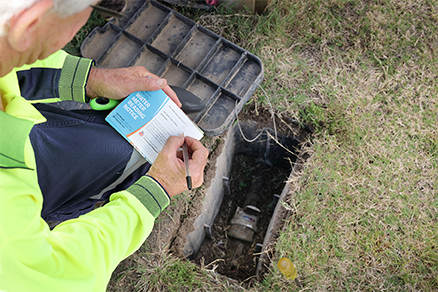 Step 2: Leaving a reading notice
We leave a Water Meter Reading Notice (PDF) in your letterbox that shows the date it was read and the meter reading. We use the black numbers on your water meter (kilolitres only) when taking the reading, and the meter reader writes this number on the notice.
We recommend you read your water meter to confirm the reading printed on the notice and on your next bill. If they are not the same, please contact us.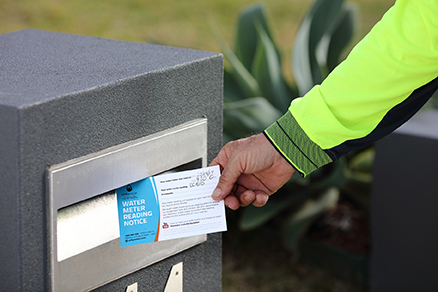 Step 3: Doing an in-house check
Your meter reading is put through a strict in-field and in-house audit to check it against your previous meter readings. If the reading seems too high or too low, compared with previous readings, we may reschedule a second reading to double check it is correct.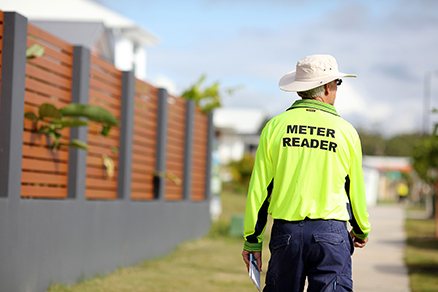 Step 4: Calculating your water usage
Your water usage is calculated by deducting your previous reading from your current reading so you pay only for the water you use. This is shown on the second page of your bill. The other charges on your bill are calculated and your bill is sent to you, usually within 7 days of your meter reading.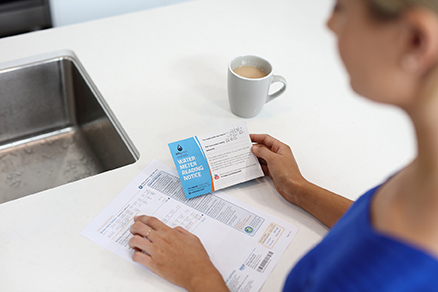 How to monitor your own water usage and detect hidden leaks early
Regularly read and check your own water meter. We recommend every two weeks when you take your bins out.
Write down the meter reading in kilolitres (black numbers only).
Enter your meter reading online at My Usage Tracker which is available online at My Account.
Any sudden increases in water usage could indicate a hidden leak. If you have any concerns that there may be water leaking, either before or after the meter, please read more about checking for leaks.
Please note: unusually spinning numbers on your water meter (when you aren't using any water inside your property) could also indicate a potential hidden leak.
As the property owner, you are responsible for monitoring and maintaining all of the plumbing pipework and fittings on your private property (including the pipe running from the water meter to your residence, and any internal plumbing within your residence). If a leak occurs in any pipe on your property, you are responsible for having the leak fixed and for the cost of the water.
How to read your meter and check for water leaks
Different types of water meters
There are different types of water meters across the Unitywater region. The black numbers on your water meter represent kilolitres (kL). One kilolitre (kL) equals 1000 litres (L). We use the black numbers to calculate the water usage on your bill. Below are some examples of common water meters: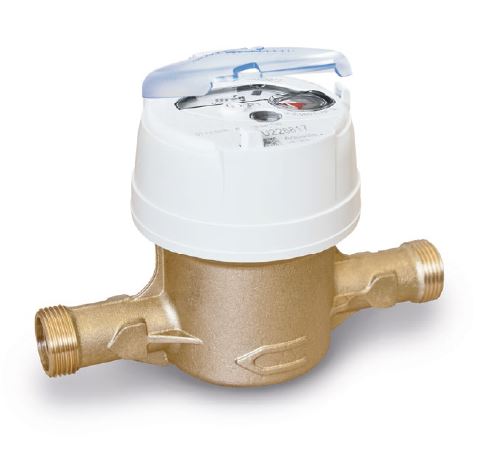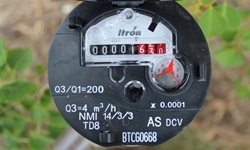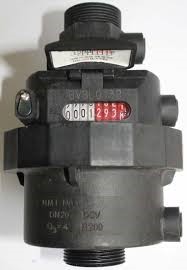 Elster V100 water meter Itron water meter Itron TD8 5 dial water meter GVT water meter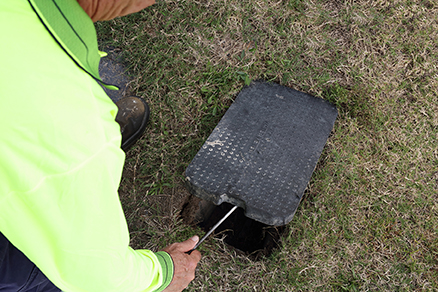 Meter reader opening the water meter lid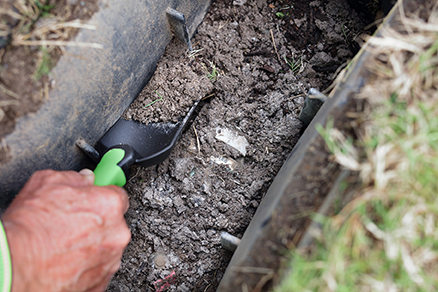 Meter reader clearing the dirt from the meter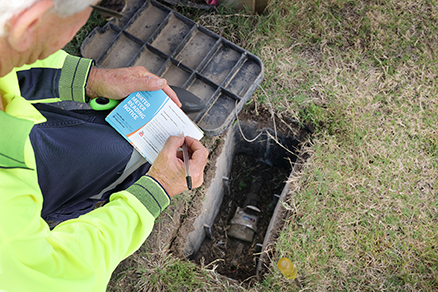 Meter reader writing down the reading