Hands-on industry experience
Every year Unitywater hosts undergraduate University students, providing an invaluable opportunity to get some real-life exposure to the workplace. The program offers a unique, hands-on experience and insight into their intended career. Our 2022-23 intake was our largest ever group of students, with 17 in total joining us for a three-month paid placement over their summer holidays. Students worked right across the organisation, from a range of disciplines including:
Engineering
Business
Law
Science
Commerce
Marketing
ICT
Highlights provided by this intake of students included the ability to get out in the field, produce some meaningful work, and really experience what their future career may look like first-hand. Some of these students were fortunate to be offered ongoing casual work and others moved straight into graduate positions in our Graduate Development Program.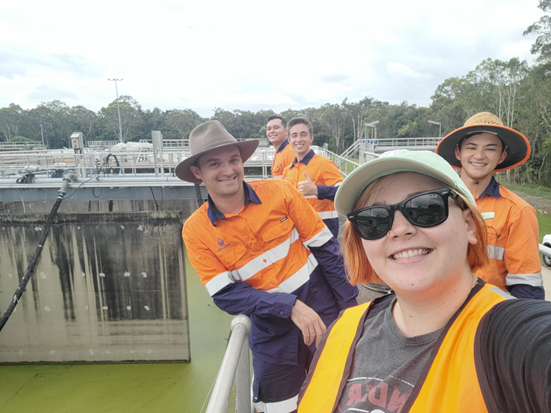 Maddy's story
Maddy started at Unitywater as a Vacation Student while she was studying her Bachelors of Psychology and HR. Maddy loved giving back to her community and her experience in our dynamic workplace so applied for our Graduate Development Program.
She successfully completed this two-year Graduate program and now works at Unitywater full time. As a young professional, Maddy has brought her knowledge from university and applied it in a practical sense.
Watch Maddy's video on how she loves the ongoing support she receives and the sense of community she feels!
Connect with us on LinkedIn
Get updates about career opportunities with Unitywater.
Keep up to date