Potable drinking water
Residents who are not connected to our network and rely on tank water may need to access drinking water when their tank supply runs low.
We have four water fill stations for community members to access potable drinking water at any time.
They are located at:
17 Mary River Road, Cooroy
Zealey Road, Nambour (next to number 49)
Samsonvale Road, Warner (opposite number 350)
Showgrounds Drive, Highvale (opposite number 38).
What do I need?
You will need to bring your own:
Container to fill
Hose
Hose fitting – the filling stations have:

a 50mm camlock outlet controlled by a valve at exit (see image below). You will need a 50mm female camlock coupler.
a 25mm tap outlet with valve at exit (see image below). You will need a 25mm female hose coupler.
If you use a garden hose, you will need a tap adaptor to fit to the fill station correctly.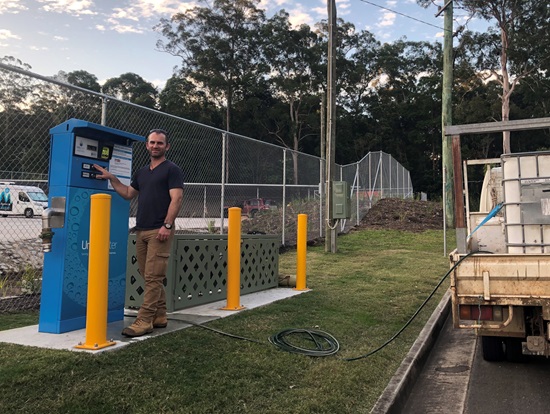 50mm camlock connection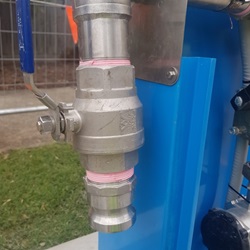 25mm connection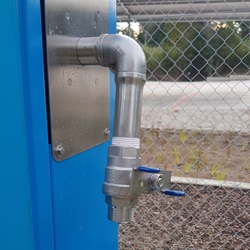 25mm connection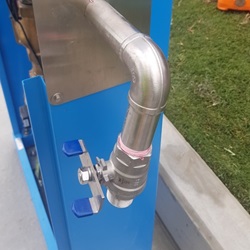 COVID-19
We request that customers using the water fill station be mindful of social distancing. We suggest that if someone is already using the station that you wait in your car until they have finished. We appreciate your understanding and ongoing support during these difficult times.
Payment information
How much does the water cost?
Water is charged at $4.63 per 1000 litres, which is consistent with connected residential customers.
How do I pay for it?
You can use a credit or debit card to obtain water from the filling station via PayWave. You can spend a minimum of $1 and a maximum of $99 per transaction.
Please note: if you use less than $1 worth of water (i.e. 233 litres) you will still be charged the minimum amount of $1.
The dollar amount you select on the filling station will be pre-authorised and reserved against your credit limit by your bank.
Water will be dispensed up to the pre-selected amount (e.g. $50) or until you press the finish button or turn off the tap.
Charges will apply to your card for the actual amount of water you dispense.
If you take less than the pre-selected amount, the difference will still be reserved against your credit limit. It may take up to 7 business days for your bank to release the reserved amount.
If your card payment does not work, do not keep trying to use PayWave. Please check:
Do you have enough funds on your card?
Have you followed the instructions on the machine? Please note you need to select the ENTER button twice – The first time to confirm the value of water you wish to take then again after you present your card and proceed to open the valve/tap.
Every time you use PayWave, your bank tries to authorise the pre-selected amount against your credit limit reducing your available credit.
Your bank will hold your funds for up to 7 business days. Once your bank has determined that you did not take the water, they will release the funds back into your account.
FAQs
If you notice something wrong with the fill station, please contact us to report the problem and provide the following details:
the location of the water fill station where the problem occurred
a description of the problem
date and time of the issue
your contact number or email (in case we need further information).
We will investigate and repair if necessary or contact you if further information is needed.
Receipts are not issued at the water filling stations. You can use your bank statements for tax purposes.
If you need a receipt, please call us on 1300 086 489 or email us at customer.service@unitywater.com and provide the following information:
date, time and location you bought water
amount you spent
last 4 digits of the credit card or debit card you used
name and address you would like to have on the receipt.
We will then email or post a receipt to you.
Every time you PayWave, your bank tries to authorise the pre-selected amount against your credit limit. If you have scanned your card multiple times don't worry, you will only be charged for the value of the water you have taken. The amounts that have been pre-authorised will initially be held against your credit balance by your bank as pending transactions. Once your bank has determined that you did not take the water, they will release the funds back into your account. The timeframe for this will depend on your bank and can be up to 7 days.
If you have questions or concerns about the balance of your pre-authorisation please contact your bank directly.
This may be because you have not pressed ENTER the second time. After your card has been pre-authorised you need to press ENTER a second time before the water will dispense from the unit. Refer to the step-by-step instructions on the front of the fill station.
If you are still unable to access water please contact Unitywater on 1300 086 489 and we will investigate further.
The intention is that the Community Fill Stations are for domestic residential use only. Commercial water carriers should continue to use the commercial fill stations we have available. The Community Fill Stations are not appropriate for commercial customers due to low flow rates and a maximum purchase of $99 by credit or debit card. Additionally, these fill stations are not linked to Unitywater commercial accounts, do not have access fobs, and do not issue receipts.