If you can't turn off the stop tap, here's how
All properties have a stop tap, which is connected to your water meter.
The stop tap is located on the road side of the meter and is used to control the water supply to your property.
You will occasionally need to turn off your stop tap at the meter to stop the flow of water into your property to do work to your water supply i.e. changing a tap washer, or in case of an emergency when water is leaking or flooding in your house.
Good tip: Locate your water meter and know how to turn off your stop tap before you have an urgent problem.
Instructions to turn stop taps off and on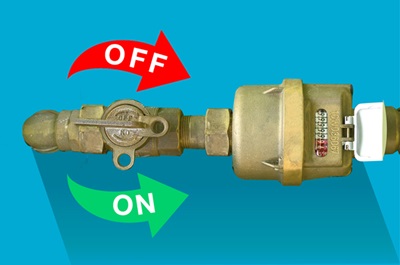 Stop tap with LEVER handle
To turn the stop tap OFF, turn the LEVER handle clockwise. To turn it ON, turn the LEVER handle anticlockwise.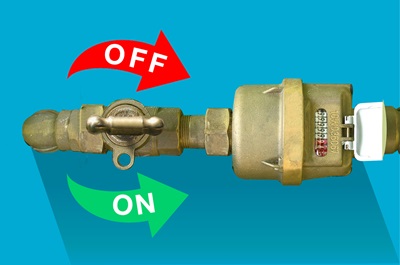 Stop tap with TAP handle
To turn the stop tap OFF, turn the TAP handle clockwise. To turn it ON, turn the TAP handle anticlockwise.
How to have your meter tested*
Simply complete the relevant application form and submit your payment.
Single residential properties, typically, have a 20mm or 25mm meter and commercial or multi-residential properties have a meter larger than 25mm.
Standard Services - 20mm or 25mm
Please complete Section E and submit this form:
Standard Connection Request Form (PDF)
Non-Standard Services - 32mm and above
Please complete and submit this form:
Water and Sewerage Supply Services - Private Works Application (PDF)
Once we have received your payment, we will remove your meter and replace it with a new one. The old meter will be sent away for testing. You or a nominee of your choice can attend whilst the laboratory perform the meter test/calibration. The NATA accredited laboratory we currently use is PROVE located in Victoria. When you complete the application form please advise us if you wish to attend. We will then confirm the time and location so that you can make the necessary travel arrangements (at your own cost). Typically, meter testing is conducted within 10 working days of the meter being removed for testing. If the results show the meter was faulty, your water supply and sewerage account will be adjusted in accordance with the test results and these changes will be reflected on your next account.
For non-standard (larger) meters, we will respond with a written quote within 15 working days. If you decide to proceed, simply pay the fee advised in the quote and we will then complete the calibration test within the specified timeframe.
*Unitywater is unable to provide meter testing on sub meters within complexes built prior to 2008.