Yandina Creek Wetland Update
Due to some erosion that has impacted the structural integrity of the bird hide and the recreational trail, we have had to barricade this section for public safety.
We are hoping to have this section repaired as soon as possible. Thanks for your understanding.
Trail walk and bird viewing hide
Yandina Creek Wetland is a birdwatcher's delight! Unitywater completed works on a 1.7km (return) trail walk and bird viewing hide in March 2020.
The site is open to the community to enjoy, take a walk on the 1.7km (return) trail with nature and have a chance to spot some of the 100-plus species of wildlife calling the wetland home.
Where is it located?
You can access the trail walk at 362-368 River Road, Yandina.
Project summary
In 2016, Unitywater purchased two lots of former cane farming land on River Road, Maroochy River as part of a larger program to improve the health of the rivers and creeks in the area. Much of the former cane land is being restored as a wetland. This wetland removes nutrients and sediments from the river, which improves water quality and overall river health. Unitywater can offset the amount of nutrients removed by these wetlands against the nutrients discharged to the Maroochy River following treatment of the local community's sewage.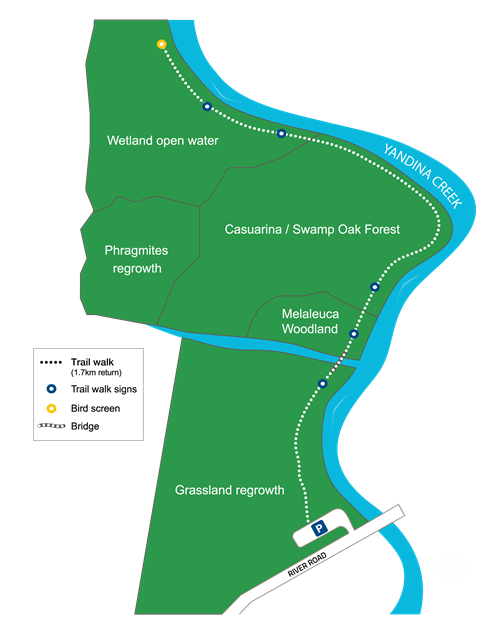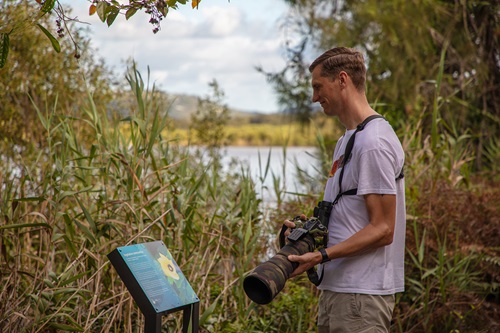 To ensure your visit is safe and enjoyable, please:
Do:
Only park in the designated car park - please do not park unsafely or on bends along River Road
Stick to the speed limit and drive carefully on River Road - this is a shared road with residents
Keep the area beautiful and take any rubbish with you
Wear enclosed footwear, long sleeves and sun protection
Use insect repellent during the mosquito season
Take drinking water
Stay on the designated track – do not wander off
Follow social distancing and hygiene measures during COVID-19.
Don't:
Handle or remove any plants, plant parts or animals from the site
Bring domestic animals into the wetland
Bring any plants into the wetland.
Watch Vlog: Episode 1 now!
Our Yandina Creek Wetland vlog
Unitywater's Environmental Affairs Manager Kylie Crouch kicks off our vlog series, providing an overview of the Yandina Creek Wetland site and how it has the potential to be an environmental hub on the Sunshine Coast.
Each episode will focus on a different aspect of the site and you'll hear from our partners, including two universities, and BirdLife Southern Queensland who are undertaking bird surveys.
Watch it now!
Check out the second episode of our Yandina Creek Wetland vlog. You'll see how our partner, University of the Sunshine Coast (USC), is monitoring the ecology of the site and how fish are now able to access a greater area of the wetland. Over time, we expect that we'll see bigger populations of fish, crabs and other crustaceans.
Watch it now!
Check out the third episode of our Yandina Creek Wetland vlog. You'll hear about the benefits for the environment and community, and how bird populations are returning to the site. Our Strategic Planning Manager Partha Susarla explains that before purchasing the site, Unitywater carried out a cost comparison of using the wetland as a nutrient offset versus constructing a traditional sewage treatment plant. It showed that over a 25-year period, Unitywater would save about $1 million through the wetland option.