Rainwater tanks help you save water and money
Installing a rainwater tank to use for garden irrigation or topping-up pools can help you save water and reduce the cost of your bill.
Rainwater tanks are regulated through the Moreton Bay Regional, Sunshine Coast and Noosa councils' building/plumbing approval processes. Please contact your local council for advice on rainwater tanks.
Helpful tips:
Check if there are any council regulations about where you can put your tank. For example, in some areas there is a minimum distance from the side property boundary.
There may be other mandatory installation requirements such as mosquito-proof screens, stormwater connections and the fitting of a first-flush diverter.
Decide whether you need a pump and if so, how you will connect it to your electricity supply.
You might also be interested in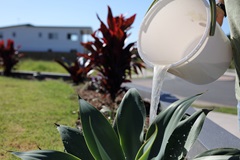 Greywater and bore water
Greywater from the bath, shower, wash basin and laundry is a great way to save water around the house.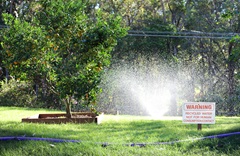 Recycled water
We supply recycled water for a variety of residential, commercial and industrial uses throughout our region.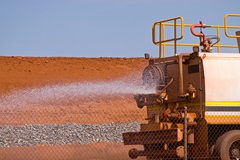 Water fill stations
We have a number of water fill stations where water carriers can access both potable (drinking) water and recycled water.