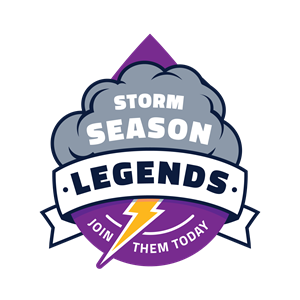 There are plenty of storms (and Lightning) about
During storms and other wet weather events our water and sewerage network can sometimes be impacted.
Power outages can affect water pumps and boosters, interrupting your water supply.
Large volumes of stormwater can get into the sewerage system and heavily diluted sewage can discharge through manholes and other overflow points.
Be a Storm Season Legend and follow our steps below, just like the Sunshine Coast Lightning netball team. Being prepared this storm season will help keep you, your family, and your home safe.
1. Check your ORG
What is an ORG? An ORG (Overflow Relief Gully) is a grate at ground level that is found outside your property (sometimes near your laundry).
Why is it important? The ORG helps prevent any sewage overflows into your home. If there is a sewer blockage, the cover of the ORG should either pop off or upwards to release excess pressure and direct sewage away from your home.
Steps to take:
1. Make sure grate is loose and not blocked
2. Remove any objects, including pot plants, from the top of the ORG grate
3. Make sure the ORG sits up high enough that stormwater does not drain into it.
4. Make sure your downpipes aren't connected to your ORG.
5. If your ORG is too low, or your downpipes are connected to the ORG then please call a licensed plumber.
Watch! Lightning show you how