Before applying to connect
Because multi-unit developments can be complex, we recommend requesting either a Certification Advice Notice (CAN) or a Services Advice Notice (SAN) before starting the connection application.
A CAN is for a certifier and SAN is for an applicant. Both these result in 'advice', but they are submitted by different parties. The CAN is specific to a certifier asking a question as a certifier.
This free service saves you time and cost by providing upfront advice that helps you understand what's involved in applying to connect, and what supporting information is required to lodge a successful application.
Certification Advice Notice (online form)
What to submit with your application after the Certification Advice Notice
You will need:
the land owner's consent
consent from owners of any nearby property affected by the proposed work, e.g. if access is required
the Lot and Plan Number of your property
a street plan that adequately locates the property
construction plans showing gross floor area
hydraulic plans – including details of water supply and sewerage connection, and sub meters (if applicable)
a network demand assessment
a document detailing the nature of your development.
How a certifier can help
A Registered Certifier helps make the approvals process easier by preparing, assessing and submitting your applications for Unitywater's approval.
For connection applications they help with:
Preparing and submitting your connection application
Identifying whether the existing water and sewer network can accommodate your development, or if additional infrastructure is required
Providing design advice on Unitywater-approved allowable servicing solutions
Calculating Infrastructure Charges payable with development
Assessing firefighting requirements
Identifying sub-metering requirements
Drafting Certificates of Completion for Unitywater's approval.
If network works are required, they help with:
Preparing and submitting your network works application
Conducting pre-start meetings on our behalf
Completing final inspections
Conducting final testing of construction works
Arranging live connections
Managing handover of network infrastructure to Unitywater.
Our Accreditation Register helps you find the right Registered Certifier to assist with your application.
We will then assess the Certification Packages and issue Decision Notices. For information on timeframes please contact our development services team at development.services@unitywater.com with your property address and lodgement details, including date and name.
We only accept connection applications prepared by a Registered Certifier.
5 phases of connecting to our network:
Connecting a unit or townhouse development to our network involves up to 5 distinct approval phases. If your project does not require alterations or extensions to our water or sewer mains (network works), the Construction and Final Acceptance phases do not apply.
A Registered Certifier assists you with each phase of the approvals process.
Important note about sub-metering of existing buildings and complexes
It is possible to retrofit individual water meters to existing buildings or unit complexes.
The body corporate must approve and apply for this retrofit on behalf of the owners. A copy of the body corporate minutes approving the retrofit of sub-meters must accompany the application.
Retrofitting sub-meters will be at the cost of the owners or the body corporate.
Unitywater advises that a private plumbing contractor should be consulted in regard to the feasibility of retrofitting sub-meters to an existing building. There may be a cost associated with the plumbing installation/augmentation that will need consideration.
Once you are ready to proceed, your plumber can find all the information they need in the sub-metering for plumbers section.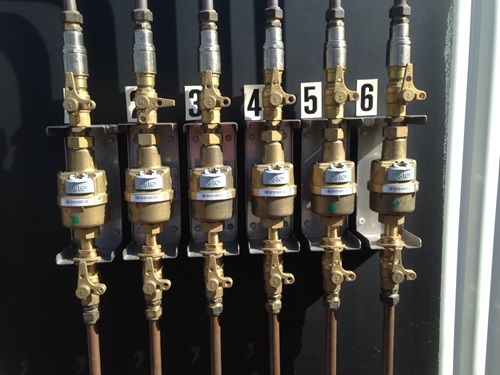 A surcharge will apply for credit card payments (Mastercard and Visa) on Sundry accounts being paid at our Maroochydore and Caboolture counters or over the phone with the Credit Card Payment Authority form. Find out more.